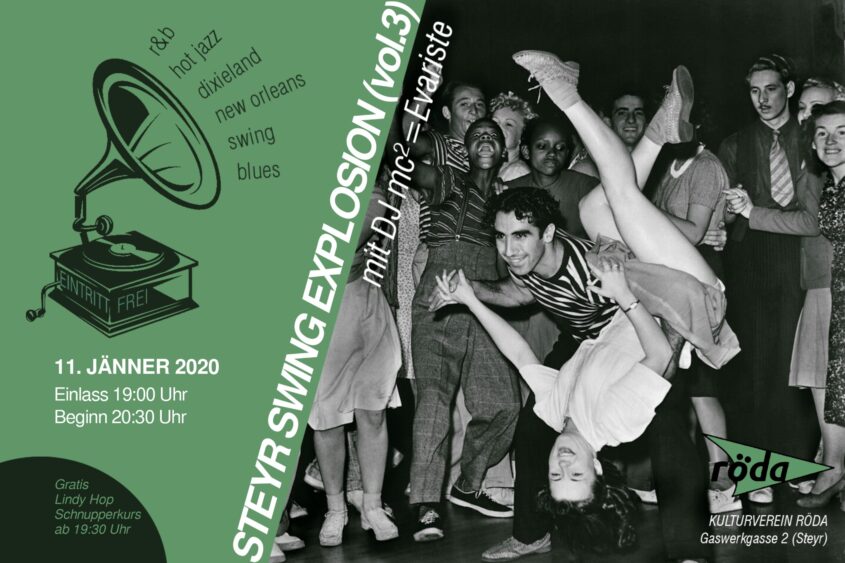 Tanz
STEYR SWING EXPLOSION (vol.3) feat. DJ mc²=EVARISTE
11.1.2020, 20:30 Uhr - 12.1.2020, 03:00 Uhr (ics/ical Kalender Download)
RÖDA Steyr

"If you play a tune and a person don't tap their feet, don't play the tune" (Count Basie).
An evening especially for dancers. Lindy Hop, Collegiate Shag, Balboa, Charleston… dance styles between the 20s and the 50s to kick the troubles away.
A short Lindy Hop taster will be taught to show the newbies the fun of hitting the dance floor.
DJ mc²=Evariste, a spaniard settled in Austria since some years, will bring some unforgettable tunes to Steyr. Rhythms from New Orleans Jazz and Honky Tonk to the finest R&B, from the most vernacular Hot Jazz and Blues to the grandiosity of the Big Bands and the grooviest Swing will make you bounce non-stop.
If the tune won't make you tap your feet, it's not gonna be played!
Schnupperkurs Lindy Hop um 19.30 Uhr!!!
Eintritt: 5€
Mehr Informationen: https://roeda.at/events/steyr-swing-explosion-vol-2-feat-dj-mc%c2%b2evariste/