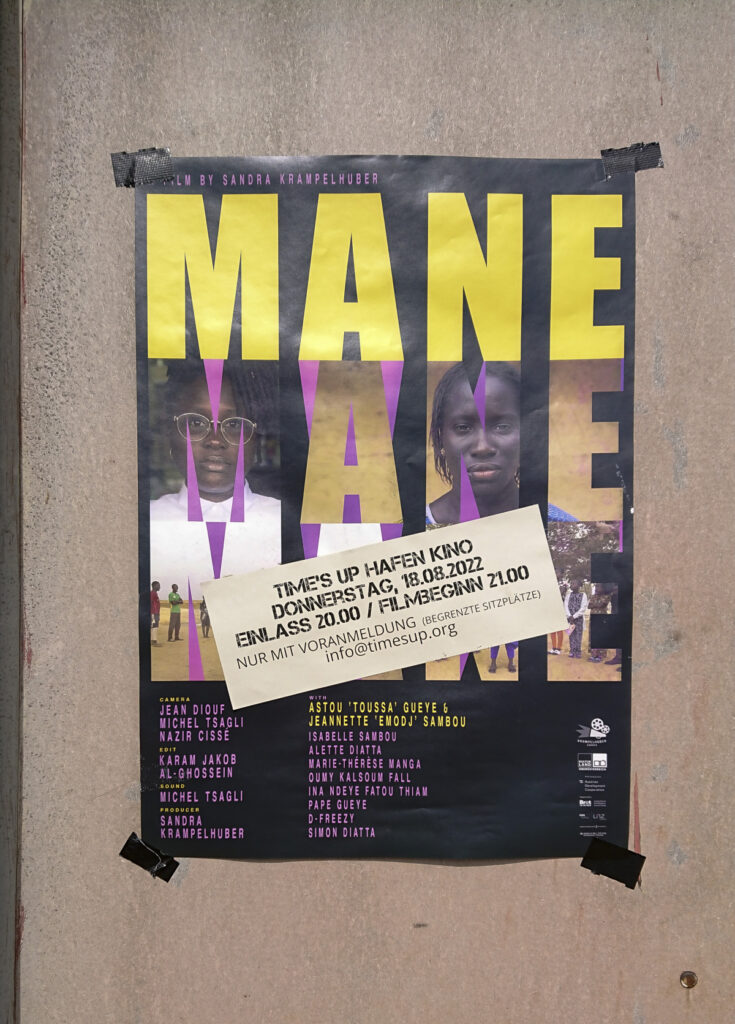 Film & Kino
Hafenkino Screening: MANE – a film by Sandra Krampelhuber
18.8.2022, 20:00 Uhr - 18.8.2022, 23:00 Uhr (ics/ical Kalender Download)
Time's Up Laboratorien

We are very glad to have
Sandra Krampelhuber with her film MANE – 2020, 55min
being present as our first public Time's Up Hafenkino event in 2022
Original languages : Wolof, Diola, French
Subtitles: English
Admission 20.00 / Film starts 21.00
IMPORTANT NOTE(S):
ONLY WITH REGISTRATION (limited seating)
NUR MIT VORANMELDUNG (begrenzte Sitzplätze)
info@timesup.org
Bei Schlechtwetter fällt die Vorstellung aus.
In case of bad weather, the screening will be cancelled.
MANE Two young women – two stories.
A rapper in Dakar and a wrestler in southern Senegal: Toussa and Emodj.
They both strive for victory and recognition in male-dominated spheres and a patriarchal society. A battle with words and visionary lyrics for a better society, and a fight with hard physical training for victory in the arena. "Mane" – "Me" in the language Wolof – tells a modern, positive and trend-setting story of two young women and their universal truth: only we ourselves can bring about change, out of our own ambition and will.
Mehr Informationen: https://timesup.org/activities/events/hafenkino-screening-mane-film-sandra-krampelhuber